Prisonshake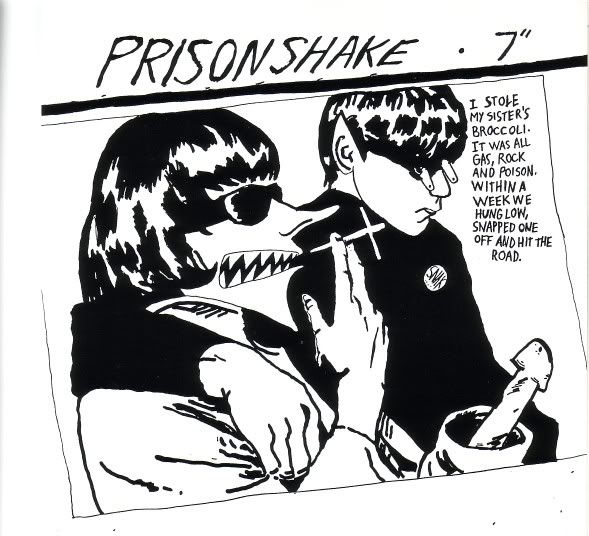 Chris Burgess- Bass
Doug Enkler- Vocals
Robert Griffin- Guitar
Scott Pickering- Drums
Rich Masarik- Drums (on "Roaring Third")
Hometown- Cleveland, OH
In the summer of 1991, I started doing a show on WMPG (the University Of Southern Maine community radio station in Portland, ME) with my friend Brent on Friday nights from 11pm-1:30am. As there wasn't much to do in Portland and we were both too young to drink, we considered this a prime slot. Technically it was Brent's show, but after meeting him at the record store he worked at (the name escapes me, though I remember where it was- at the old Buckdancer's Choice location at the end of Congress Street), he invited me on the show to play some of the obscure records I'd collected in Ohio. He was a guitar player and we tried starting a band, but I was only in Maine on school breaks, so that never really went anywhere.
After about a month, Brent developed appendicitis and I took over the show full time. I rechristened the show "Pirate Radio" in a sly reference to the fact that, while I had radio experience from Ohio and knew how to operate the equipment, I didn't have an FCC license. At the time, I was full of self-righteous indignation that "the man" would try and keep me off the air over a scrap of paper, but the reality was that WMPG could have gotten in a pile of trouble if I'd gotten busted. Oh, I never read PSAs, either. Fortunately, we were in Maine and nobody noticed.
One night I was digging through the stack of new 7" singles that had arrived over the past week (7"s were the medium of choice for indie bands in those days- WMPG would get at least one a day), and came across Prisonshake's "Spoo" EP. The cover (reproduced above) was a parody of Sonic Youth's then current "Goo" album. "Goo" was a blatant commercial bid by the former underground darlings, and most of us hardcore indie rockers at the time considered it "counter-revolutionary". Today, I just say everything SY did after "Daydream Nation" was crap (go ahead, argue me!). Anyway, any band that would smack down the high priests of cool like that was worth a listen. The leadoff track "It's A Ron Kinda World" is an anthemic rocker that blends sharp songwriting with punky energy and don't-give-a-fuck swagger. "Asphalt" is an amped-up blues stomp, and the whole thing concludes with a bewildering live take on the Stones' "The Spider And The Fly". Finally, here was something that stood out from the endless parade of REM clones and undifferentiated Seattle sludge that showed up week after week.
Prisonshake were founded in Cleveland in the late '80s and defined the DIY aesthetic with a complete disregard for convention- they released their own records on Griffin's Scat Records label, self-recorded all their releases except one, and their first non-7" release was a box set ("I'm Really Fucked Now") containing a vinyl LP, CD, cassette and 7" all containing different material. Prisonshake specializes in postpunk guitar music that fully acknowledges both classic rock and arty punk. They don't just blend the two- like Camper Van Beethoven did with Eastern European folk music, the Grateful Dead and Black Flag, Prisonshake refuse to differentiate their influences. When Enkler affects Jaggeresque mannerisms or Griffin rips out a riff that Zeppelin would be proud of in the middle of a breakneck rocker Fugazi wishes they wrote, Prisonshake aren't being ironic. The cover of the "Really Fucked" CD doesn't bear the legend "File Under: Total Ass Kick" for nothing.
By 1992 the rhythm section had split, but Enkler and Griffin decided to see what would happen if they made a full-length album with an outside producer. The resulting "The Roaring Third" reins in the group's excesses a bit, and focuses the attack without losing any of the intensity that makes the band great. After "Third"'s release, Enkler and Griffin moved to St. Louis. A handful of 7"s have leaked out since and they play out occasionally, but the band has been mostly dormant since 1993. A new Prisonshake album has been rumored to be in the works for the last couple of years, but no firm release date has been set.
Its A Ron Kinda World.mp3
7", collected on "I'm Really Fucked Now" 1991
2 Sisters.mp3
Cigarette Day.mp3
From "The Roaring Third", 1993
Click here to buy "The Roaring Third" from Amazon