The Boy Wonder Jinx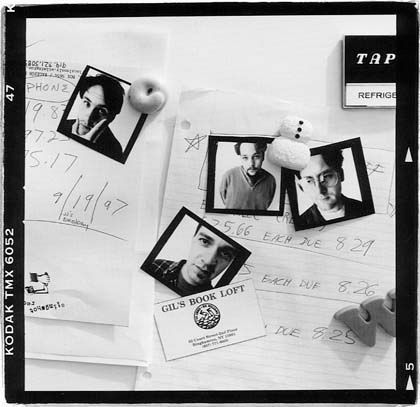 L-R:
Dan Phillips- Vocals
Todd "Flash" Miller- Drums
Greg Eyman- Bass
Scott Phillips- Keyboards, Backing Vocals
Hometown- Raleigh, NC
The Boy Wonder Jinx began life in the mid '80s as Rotary 10, an REM-inspired high school band in Fairview Park, Ohio which featured Greg, Dan, and Scott with a different drummer. In an odd twist, the band had no guitar player because they couldn't find one who shared their musical tastes. For those who've never tried to start a band, this is unusual because it's usually the guitar players who are a dime a dozen, just check the bulletin board at your local music store.
Anyway, that quirk of fate set the trio's future musical destiny in motion. After releasing four demo length cassettes (each a marked improvement over the last), the group relocated to Ithaca, NY in 1993 while Greg finished his senior year of college. By spring 1994 Greg had graduated, and the band began considering their future.
I had met Scott Phillips during our freshman year at Ohio University in 1989. We bonded immediately over shared musical interests and a general sense of alienation from mainstream college life. Scott transferred to Ithaca College after that year, but we kept in touch. During the late spring of 1993, Rotary 10 came and played a show in Athens, Ohio where I was living and doing sound at the local music bar. Their next shows were in Cincinnati and Mt. Vernon Ohio, and I tagged along and did their sound for those, too. A few weeks later they came back through Ohio to play shows in Cleveland and Louisville, KY- this time I brought along some recording gear I "rented" for peanuts from my friend Robin Peckinpaugh. We were all so broke that we could only afford to buy enough tape to record the six songs they planned on using for their next release- man, I wish I'd had the foresight to spring a little extra to record the whole sets!
By the summer of '94, the band had decided to relocate to Raleigh, North Carolina. I'm still not sure why they picked Raleigh, and I don't think they ever really knew, either. I knew it was time for me to leave Athens, so I called and asked Dan if anybody'd mind if I came with them. He said no, so in September 1994, Rotary 10 and I rolled into Raleigh. As I mentioned before, we were all seriously poor. Dan managed to find a studio apartment he could rent without a security deposit, so he and I moved in there while the other three guys limped home to Cleveland to make enough money to move back to Raleigh. During this time, drummer Chris Solt decided he'd had enough and elected to stay in Cleveland. At the time we called him a big pussy, but in retrospect he was the only one of us with any brains.
Eventually Scott and Greg saved up enough money for a security deposit, they changed the name of the band to Boy Wonder (no "Jinx" yet) and found drummer Matt Schneider. Boy Wonder cut two 7" singles with Matt before he quit in 1996. Later that year, Todd "Flash" Miller joined, and would play on all the group's subsequent work.
We headed to Jerry Kee's
Duck Kee Studio
in early 1997 to start recording the band's debut CD "Left Handed Smoke Shifter" (I co-engineered with Jerry, who is a great guy- if you're in need of a studio in eastern NC, I highly recommend him). The band name had by now morphed into The Boy Wonder Jinx, after the phenomenal bad luck they encountered at every turn (catastrophic van breakdowns while on tour, practice space and all their equipment flooded in a hurricane, etc). The album was conceived to be a showcase of all their diverse influences, from indie pop to country, loud to soft. It works, although I was still learning the ropes in the studio, and it shows.
The following year's "The Problem With Fun" (much of which was recorded in their basement practice space where I'd cobbled together a small studio) was designed to be a much more straightforward, almost commercial album. It's also short, considering we'd recorded at least three songs that didn't make the album that were superior to some of the songs that made the cut.
In any event, "The Problem With Fun" turned out to be a prophetic statement about the group's state of mind- Dan left the band in 1999 due in large part to his growing disillusionment with the "indie rock lifestyle". Living hand to mouth and only worrying about where your next beer is coming from is fun for a while, but at some point it starts to seem kind of pathetic. Flash left shortly after Dan. Scott and Greg teamed up with drummer Chris Dalton and played a couple of gigs as Boy Wonder Jinx before changing their name to
Goner
, who still play occasionally and are rumored to be working on a new CD. I lost contact with them years ago, but they seem to have made their own peace with being in a rock band in your 30s but not acting like you're still in your 20s. Dan now plays music under the name
Zapruder Point
. Both are well worth checking out.
Justin Estes.mp3
From "Left Handed Smoke Shifter", 1997
Hal The Fifth.mp3
"The Problem With Fun" outtake, 1998
Felons.mp3
From "The Problem With Fun", 1998