Motorpsycho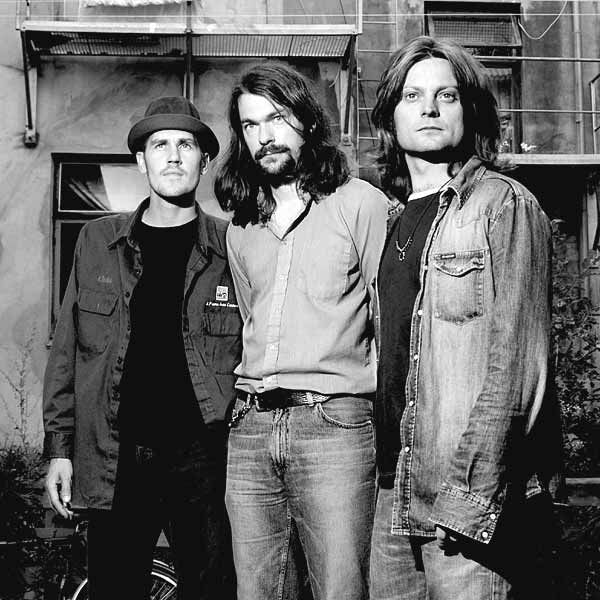 L-R:
Håkon Gebhardt (Drums, left the band in 2005)
Hans "Snah" Ryan (Guitar)
Bent Sæther (Bass/Vocals)
Hometown- Trondheim, Norway
My brother Scott (AKA Mitre) is six years younger than I am. Thus, when we were kids it was up to me to educate him in all things Rock. I may have made a few mistakes along the way, but I was sure I'd schooled him well enough in the basics to give him a good starting point to launch his own musical journey.
A few years ago Scott sent me a CDR of a band I'd never heard of- Motorpsycho. This was the first time he'd hipped ME to a band, and it was great stuff. It was either confirmation that I'd done right by him in his early musical education, or evidence that he'd been able to undo the damage I'd done to him at such an impressionable age, I'm not sure which.
Either way, Motorpsycho rock. Their sound is often described as "prog", but I disagree. They do incorporate a lot of late '60s / early '70s rock influences, ranging from MC5-style adrenaline boogie to Pink Floyd spaciness, but they maintain a postpunk sensibility. Imagine if Sonic Youth were simultaneously more rocking and more experimental, and didn't have their heads lodged up their own asses.
The band formed in Trondheim in 1989, naming themselves after the Russ Meyer flick. They released one album with a different drummer (Kjell Runar "Killer" Jenssen) before Gebhardt joined in 1992. Their early recordings were typical heavy rock/metal sprinkled with noise experiments and tape collages, but by 1993's "Demon Box" the band began to show some actual songwriting ability.
The release of the double CD "Timothy's Monster" in 1994 announced the arrival of Motorpsycho as a creative powerhouse. Sæther was by then actually singing (instead of screaming) his lyrics, which had become thoughtful and intelligent. Although still rocking (and spacing) out, the band had fully incorporated melody into their compositions.
Motorpsycho have built a reputation as an amazing live band, as evidenced by a pair of live albums- one focusing on their hard rock persona, the other featuring their experimental "jazz" side. They have only ever played a handful of shows in the states, though.
The band went on semi-hiatus between 2003 and 2006, releasing only an EP and the country/western goof "International Tussler Society" while playing festivals in the summers. Gebhardt left the band in 2005 to concentrate on his own music (he'd been playing more traditional folk style music for years while still in Motorpsycho). Although they have employed a drummer for live dates, no permanent replacement has been named. Ryan and Sæther played drums on 2006's "Black Hole/Blank Canvas".
"Black Hole/Blank Canvas" represents something of a return to form. While Motorpsycho's last couple of records (2001's "Phanerothyme" and 2002's "It's a Love Cult") were somewhat mellower and included horn sections and strings,
"Black Hole/Blank Canvas" is a full-on psychedelic rock assault.
For more, check out the comprehensive, albeit unofficial fan site (there is no official Motorpsycho site)-
Motorpsycho - You Gotta Hang On To The Trip You're On...
Wearing Yr Smell.mp3
(from "Timothy's Monster", 1994)
Click here to buy "Timothy's Monster" from Amazon
577.mp3
Hey Jane.mp3
(From "Trust Us", 1998)
Click here to buy "Trust Us" from Amazon
With Trixeene Through The Mirror, I Dream With Open Eyes.mp3
(from "Black Hole/Blank Canvas", 2006)
Click here to buy "Black Hole/Blank Canvas" from Amazon